Top 5 Benefits of Progressive Web Apps (PWA's) for your Business.
Marketing is always a mixture of art and science but, in the digital age, it is also all about getting your product, service, or company in front of the eyes of potential users by whatever means necessary. You can have the best marketing in the world, but if your audience is playing behind walled-off gardens built by the competition, then you're out of luck. And that's exactly what Progressive Web Apps are and how they can benefit your business.
Even if you are deploying the most sophisticated social media marketing, Orange County, California has a ton of competition out there. Your business needs to stand out. This is where the experts at Orange Web Group can step into the picture and help take your business to the next level with progressive web apps. If you're already in the process of looking for a progressive web application, Orange County-based Orange Web Group is your best choice from both a technical know-how and business adaptability standpoint.
Working with a myriad of clients across multiple industries, Orange Web Group has experience with almost every niche and specialty out there. That's why the company is proud to offer a powerful progressive web application tuned specifically to drive revenue and sales for small businesses.
But, just in case you're not sold on the benefits – or aren't sure what a progressive web application is – we'll help you out with a little explanation as well as the top five benefits of having a progressive web application:
#1 Get Customers to Engage with Your Brand and on a Consistent Basis
Progressive web applications keep your customers locked in with your brand by providing you with a range of tools to increase engagement and boost sales. A bespoke web application makes sure that you get your products to your customers in a way that makes sense for your brand. It also eases the process of purchasing and shipping items to them with a painless rapid checkout process.
Probably the biggest advantage of a progressive web app for small businesses that doesn't get nearly enough press time is when it comes to customer engagement and how agile and adaptable it is as a lead-generating platform. You can run campaigns to boost sales or drive customers to an event or product as you need to do so. Orange Web Group will be happy to show you how this kind of flexible approach can be extremely powerful for boosting your bottomline.
#2 Access to Your Audience for Direct, Targeted Marketing Efforts
As we referenced above, a progressive web application gives you unparalleled access to your customers and potential customers. As a lead-generating mechanism, it is nearly impossible to beat. Yet, in terms of targeted marketing, it is far superior to ads on social media or elsewhere. In fact, many firms can harmonize expenses by advertising their progressive web apps at cost and then running free marketing directed to the user through app notifications and the like button. The possibilities are endless but the fact that you can target your potential clients, retain them through an app, and then utilize that user base to drive sales cannot be denied.
Our PWA's include GEO FENCING options which use GPS and other 3rd party data to deliver relevant ads that connect with your clients.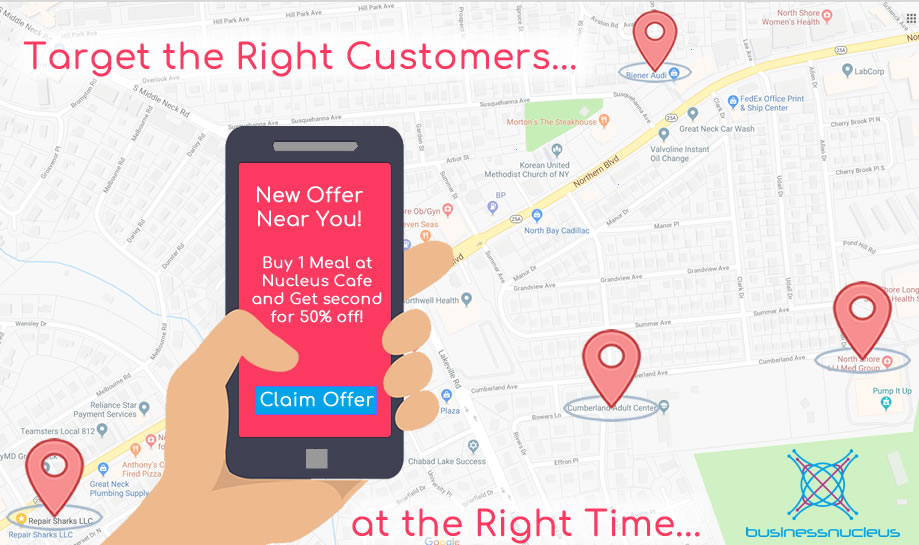 You can even partner with other brands when you reach a certain size and offer cross promotions to drive engagement and gain new sales leads. In your initial consultation with Orange Web Group, we will be happy to discuss the many, many marketing benefits of an app with you and your team.
#3 Deliver an On-Demand Shopping Experience for Your Customers and Potential Clientele
The one thing that retailers and businesses have done since the beginning of commerce is whatever it takes to get customers in through the front door. But now you can bring the shop entrance straight to the customer, and the business this can unleash for your firm cannot be denied. Progressive web applications take all of the hassle out of shopping online and optimize it so that customers and potential customers can buy without having to re-enter their information each and every time.
Beyond that, you don't have to worry about an email campaign or an ad campaign to drive sales – you can use every channel available to you in addition to your progressive web app. With every channel firing on all cylinders, we know you'll see a difference in your engagement with customers and, especially, in how many leads you generate.
Again, Orange Web Group will be more than happy to discuss this with you in more detail but trust us when we say that the on-demand shopping experience offered by progressive web applications cannot be beaten by any other sales channel.
#4 Progressive Web Apps Boost Customer Retention Rates
We've discussed how marketing and persistent contact with your customers can drive revenue, but we haven't discussed how easy it is to implement a rewards and customer retention program with your progressive web app.
From increasing customer retention and loyalty to giving you an edge over the competition, a customer rewards program is often a logistical burden for companies to implement.
Apps makes this much easier to do and Orange Web Group can give you affordable, competitive rates to help you move your progressive web app dreams from the planning phase to implementation.
#5 Everyone is Mobile – Don't Get Left Behind!
Remember how the Internet revolution changed everything for commerce? That's pretty much what mobile is doing now and you don't want to be left behind. In fact, some 87% of users are on a native mobile app and Google has even implemented "Mobile first" indexing.
As more and more people prefer surfing on a smartphone over a desktop or laptop, you need to make sure you have a presence there.
Don't rely upon search or social media alone – for some customers, if you're not on Apple's App Store or Google Play, you might as well not exist. Orange Web Group realizes how critical this need is for businesses and that's why we offer competitive, affordable rates for small businesses so that they, too, can join the progressive web app revolution today. From planning to execution, Orange Web Group will help your company through every step of the process and deliver an absolutely amazing result that we know you will love. Contact an experienced professional today to learn more!